CNC punching
If the quality requests allow you to cut with a CNC punching or there are deformations on your sheet metal part that cannot be made by laser, the company Kops pro offers you quality cutting with punching on a Trumpf machine, model Trumatic 500R and on a machine Amada Pega 357.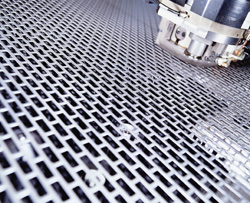 Characteristics and advantages
Lower manufacture costs in comparison to a laser enables price optimisation of your products and increases competitive advantage within your market;
Products with minor deformations like bends, embossed coils or relief embossing can be made in one operation which means less internal logistics and minor costs which again increases your competitive advantage;
Short setup times: in our company we change dyes in the shortest possible time which means that the machine is fully utilized; that enables us to produce small lots which lowers your warehousing costs and reduces the quantity of the tied up capital;
Special tools manufacture: if you have a product which needs special tools for manufacturing on a CNC punching machine, we can order such tools for you; more flexibility in shaping your parts that need punching;
In comparison to laser cutting with oxygen, the parts have no oxide layer which means no additional treatment is needed; if we want to apply for example powder coating, this menas better adhesion. This means better surface finish of your products and less complaints of your customers.
Range of products:
Small and medium lots;
Simple geometrical shapes;
Reshaping like deepening, bending, threads ...
Parts without an oxide layer.

Machine characteristics
| Machine Type | Max Size | Max Thickness |
| --- | --- | --- |
| Trumpf Trumatic 500R | 4000 x 1500 mm | 4 mm |
| Amada Pega 357 | 4000 x 1500 mm | 4 mm |